Melt blown fabric for mask | JINHAOCHENG
Product Detail
Product Tags
Fujian JinCheng Fiber Products Co., Ltd was established in 2019,put into operation and expansion on the basis of the head office Huizhou Jin Hao Chengcompany,located in Long yan City,Fujian Province,In early 2020, due to the sudden outbreak of the COVID-19inWuhan,our company quickly invested 5 large-scale melt-blown production lines in the Fujian factory based on its rich experience and in-depth understanding in the non-woven industry,airfilter materials and medical health fields,as well as the advantages of amature and professional technical team.
Jincheng company officially mass-produced in mid-February 2020,and provided high-quality and stable mask core materials-Melt blown fabric-for many major mask manufacturers in a timely and accurate manner,with making a small contribution to our country's efforts to fight the epidemic.Our company is the first enterprise in Fujian Province to successfully transform the production of mask melt blown fabrics,which has been highly valued and praised by the Fujian Provincial Government,and our company was invited to draft"Fujian Province Mask Melt-blown Fabric Group Standard"as one of the units.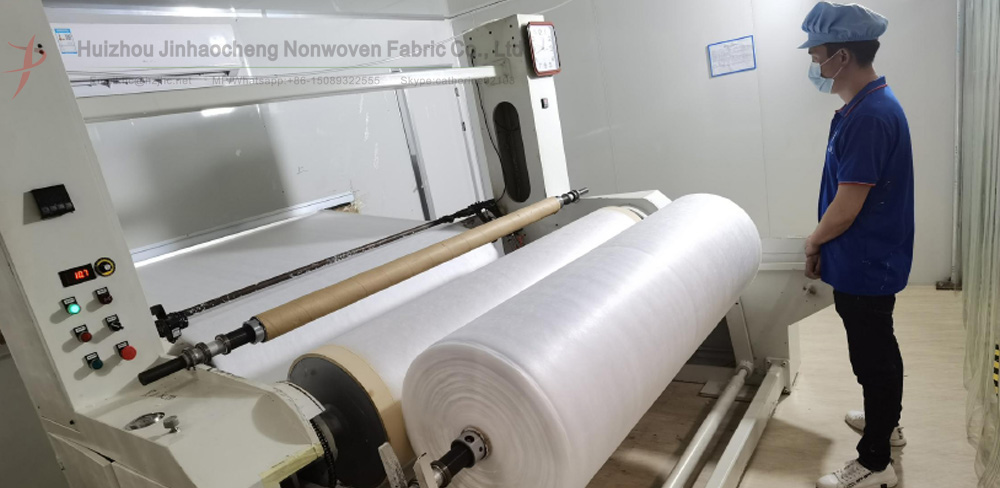 Meltblown nonwoven introduce
1、Melt blown fabric is the most key part of filter fabric for facemask which raw material is polypropylene mainly,diameter of fibers is reached to 1~5um.It has fluffy construction, good interst iceand good wrinkle resistance.
2、Melt blown fabric has unique thin fibers construction, it increases the quanity of fibers and its superficial area each unit to get better filterable ness,shielding effectiveness, adiabatic ity and oil absorbency.
3、Melt blown fabric is applying in air fter materials,liquid filter materials,isolation material,facemask material,thermal insulation materials,oil absorption material,wiping cloth etc
Meltblown technology
Melt blown fabric gets stretched and cooled when it comes out from spinner et hole by highspeed hotair convection, thus it becomes superfine fibers and get collected on the nets or roller, it gets into formation as nonwoven melt blown fabric by self-bonding.
Production process of Melt blown Fabric include:
1.Fu sant preparation
2.Filtration
3.Computation
4.Fu sant comes out from Spinner et hole
5.Flow Melt blown get stretched and cooled
6.Production completed as net
7.In avery
8.Winding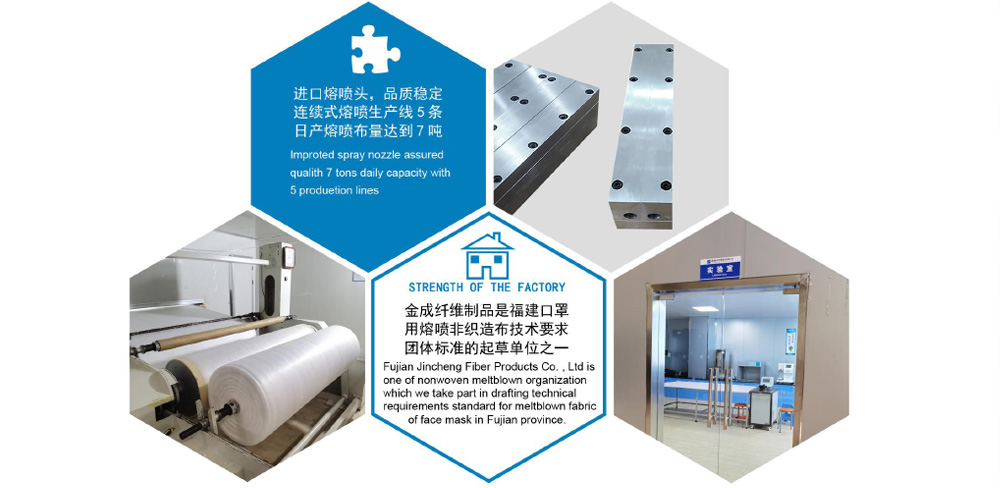 Melt blown fabric machine(Videos):
We take strict control in using high quality raw material for melt blown production manufacturing which get passed GB/T 30923.We have own QC production system for each process and get it tested and labeled for each roll before package.

Meltblown fabric test reports
BFE95 detection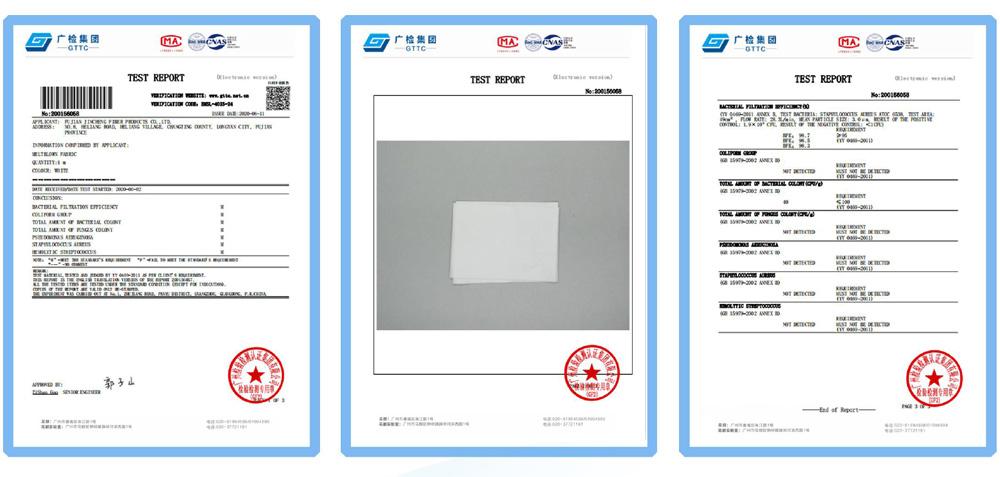 BFE99 detection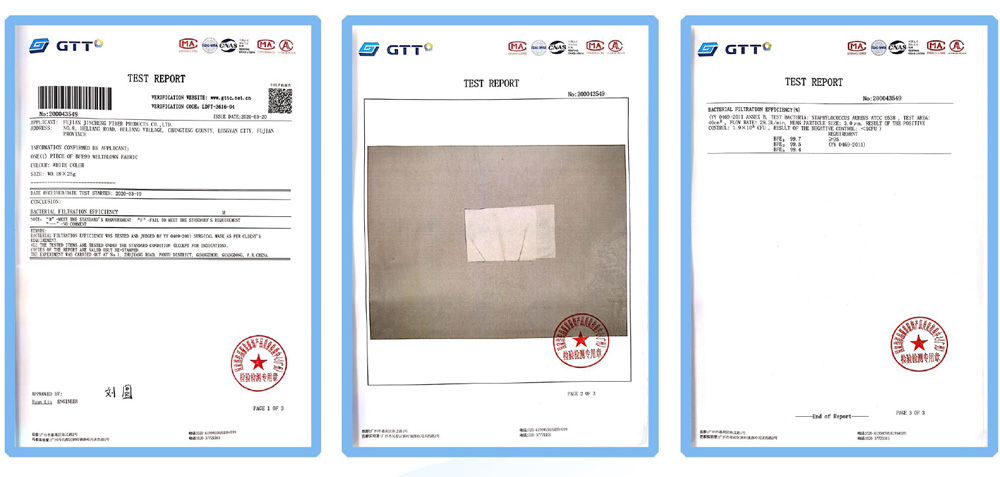 SGS–GB/T 75455-2014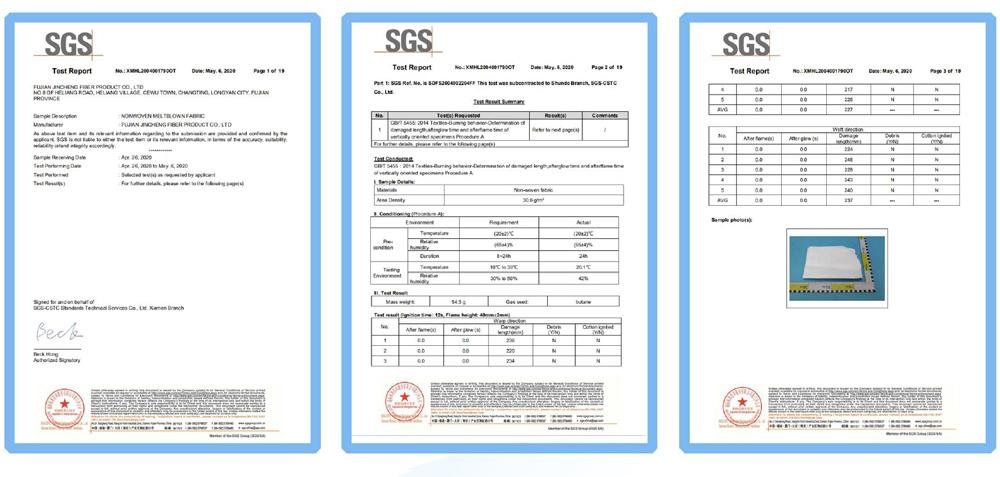 SGS–REACH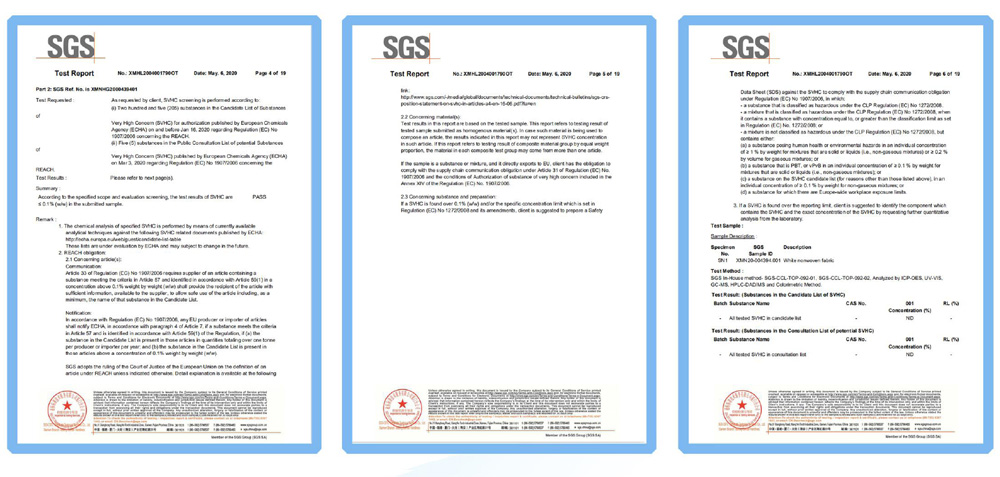 Skin irritation test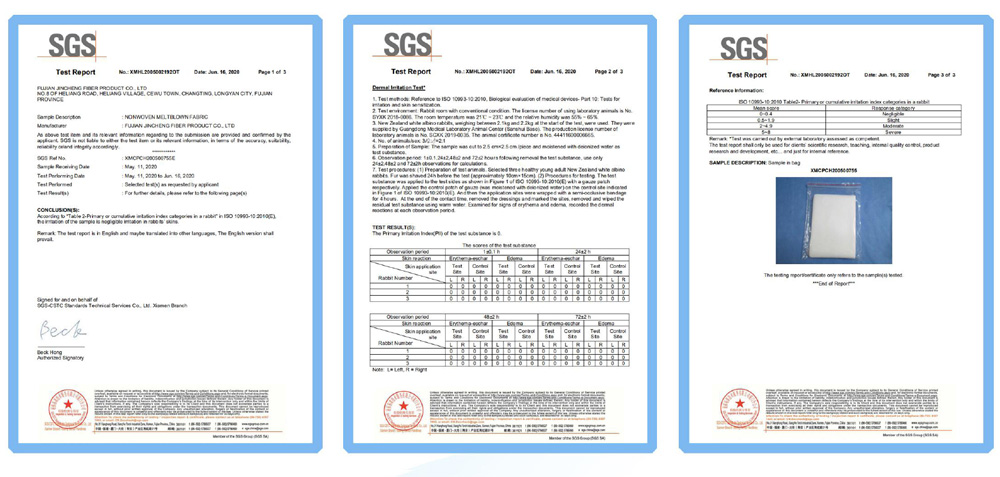 Cytotoxicity test

---
---
Previous:
Hot Selling for China Construction Geosynthetic Material Non Woven Fabric Polypropylene Polyester Textile Needle Punched Nonwoven Geotextile
---