Huizhou Jinhaocheng Non-woven Fabric Co., Ltd.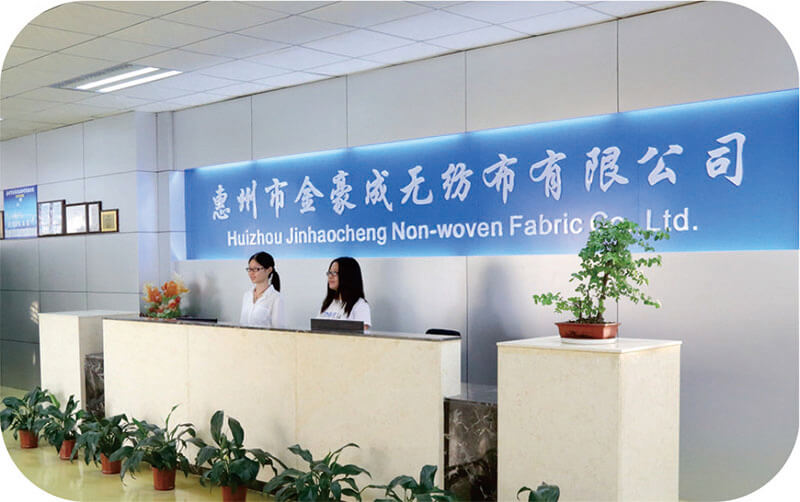 Huizhou Jinhaocheng Non-woven Fabric Co., Ltd, which was founded in 2005,with factory building covering an area of 15,000 square meters, is a professional chemical fiber nonwovens production-oriented enterprise.Our company has realized fully automated production, which can reach a total annual production capacity to 6,000 tons with more than tens production lines in total. Located in Huiyang District, Huizhou City of Guangdong Province, where there are two high-speed crossings. Our company enjoys convenient transportation access with only 40 minutes driving from Shenzhen Yantian Port and 30 minutes from Dongguan.
Our products are divided into: Needle Punched Series, Spunlace Series, Thermal Bonded(Hot air through) Serial, Hot Rolling Serial, Quilting Serial and Lamination Series.Our main products are: multifunctional color felt, printed non-woven, automotive interior fabric, landscape engineering geotextile, carpet base cloth ,electric blanket non-woven,hygiene wipes,hard cotton, furniture protection mat, mattress pad, furniture padding and others.These non-woven products are widely used and infiltrated in various fields of modern society, such as: environmental protection, automobile, shoes, furniture, mattresses, clothing, handbags, toys, filter, health care, gifts, electrical supplies, audio equipment, engineering construction and other industries. Forming characteristics of products, we not only met domestic demand but also exported to Japan, Australia, Southeast Asia, Europe and other places as well as enjoying a high reputation from clients worldwide.
 High product quality is the basis of our enterprise. With a systematic and controllable management system, we have gained the ISO9001:2008 quality management system certification. All of our products are environmentally friendly and up to the REACH, cleanness and PAH, AZO, adjacent benzene 16P, formaldehyde, GB/T8289, EN-71, the F-963 and British standard BS5852 flame retardant fire prevention testing standards. In addition, our products also conform to the RoHS and OEKO-100 standards.
In order to maintain the competitiveness of products,our company pays great attention to the research and development of new products, specially set up R & D department, and equipped with advanced equipment as well as strict, realistic, professional, and technical personnel. R & D work focused on the new material and technological development trend in the international market, as per customers' needs, developing new fashionable and high-tech non-woven products.At present, our company's overall R&D level, has been synchronized with the international market demand, and has provided a strong guarantee for the vigorous development of our company's leading products.
   In addition to owning indispensable high-tech personnel in business development , our company is one of non-woven industry pioneers which has applied for a number of patented products and new materials. Our company adheres to the core philosophy of "professionalism, integrity and innovation" and the management aim of "honesty, quality first, the customer first". We continue to explore actively, keep on top, and co-create "win-win" bright future with you!