Nonwovens do not depend on the interlacing of yarn for internal cohesion. Intrinsically they have neither an organized geometrical structure. They are essentially the result of the relationship between one single fiber and another. This provides nonwoven fabrics with characteristics of their own, with new or better properties (absorption, filtration) and therefore opens them up to other applications.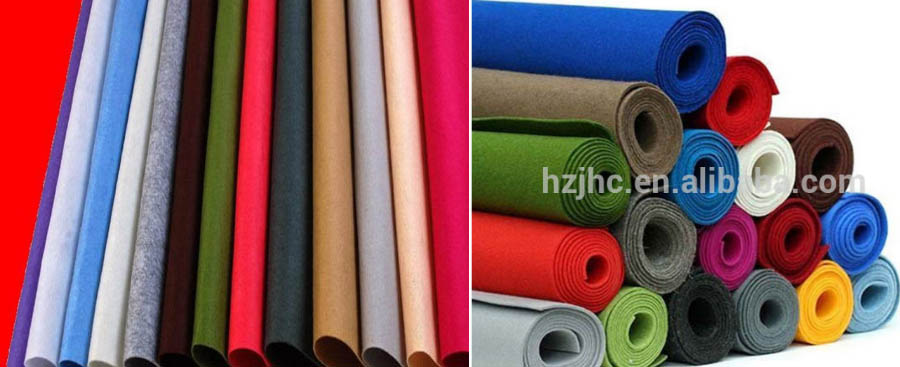 What is Nonwoven Fabric?
Nonwoven fabrics are broadly defined as sheet or web structures bonded together by entangling fiber or filaments (and by perforating films) mechanically, thermally, or chemically. They are flat, porous sheets that are made directly from separate fibers or from molten plastic or plastic film. They are not made by weaving or knitting and do not require converting the fibers to yarn.
1、Applications
The use of non-woven products continues to expand. The many uses of nonwovens may be classified as disposables, durable consumer goods, and industrial materials. All these areas are making increasing use of this kind of merchandise because of its low cost and its suitability for many needs.
Disposable nonwovens are essentially made for one time use; but some, such as dust cloths, may be laundered and reused a few times.
General applications include personal hygiene products, such as diapers and sanitary napkins; medical products such as surgical gowns and drapes; surgical and industrial masks, bandages, wipes and towels; bibs and even costumes for special events. They have recent become popular for light weight "fun" cloths that can be washed a number of times. Durable nonwovens have wide applications. Consumer durables include both household goods and home furnishings, such as for draperies, furniture upholstery, mattress padding, towels, table cloths, blankets and carpet backing and clothing and apparel, such as for caps, linings, interlinings, interfacings and the reinforcement of other fabrics. Many industrial uses include filters, insulation, packing materials, roadbed stabilization sheeting or road-building materials geo-textiles and roofing products.
2、Geotextiles
nonwoven geotextile is a non-woven geosynthetic material, manufactured by needle-punch method. Having wonderful physical and mechanical qualities (high tensile strength, mechanical damage resistance, acid and aggressive biological environment resistance) geotextile is widely used in civil and road construction, oil-gas area, for domestic needs, melioration and landscape architecture. Polyester fabrics is not water soluble and that is why environmental friendly.
***Applications polyester geotextile***
* geotextile felt is used as a separating (filtering) layer between soil and fill materials (sand, gravel chippings, etc);
* Geotextile with high density can be used as reinforcement layer on flexible soils;
* Applied to reinforce beds of dirt collectors acting at the same time as filters and substituting for a sand layer; 
* Prevents soil particles get into drain systems (basement and flat roofs drainage);
* While tunnel construction geotextile protects insulation coating from damages, forms a drain layer,drains away ground and storm waters;
* non woven polyester geotextile acts as a filter under bank reinforcement; 
* Applied as heat and acoustic insulation.
3、Staple nonwovens
 Staple nonwovens are made in 4 steps. Fibers are first spun, cut to a few centimeters length, and put into bales. The staple fibers are then blended, "opened" in a multistep process, dispersed on a conveyor belt, and spread in a uniform web by a wetlaid, airlaid, or carding/crosslapping process. Wetlaid operations typically use 0.25 to 0.75 in (0.64 to 1.91 cm) long fibers, but sometimes longer if the fiber is stiff or thick. Airlaid processing generally uses 0.5 to 4.0 in (1.3 to 10.2 cm) fibers. Carding operations typically use ~1.5″ long fibers. Rayon used to be a common fiber in nonwovens, now greatly replaced by polyethylene terephthalate (PET) and polypropylene. Fiberglass is wetlaid into mats for use in roofing and shingles. Synthetic fiber blends are wetlaid along with cellulose for single-use fabrics. Staple nonwovens are bonded either thermally or by using resin. Bonding can be throughout the web by resin saturation or overall thermal bonding or in a distinct pattern via resin printing or thermal spot bonding. Conforming with staple fibers usually refers to a combination with melt blowing, often used in high-end textile insulations. 
NONWOVEN FABRIC TYPES
Our products are divided into: Needle Punched Series, Spunlace Series, Thermal Bonded(Hot air through) Serial, Hot Rolling Serial, Quilting Serial and Lamination Series.Our main products are: multifunctional color felt, printed non-woven, automotive interior fabric, landscape engineering geotextile, carpet base cloth ,electric blanket non-woven,hygiene wipes,hard cotton, furniture protection mat, mattress pad, furniture padding and others.These non-woven products are widely used and infiltrated in various fields of modern society, such as: environmental protection, automobile, shoes, furniture, mattresses, clothing, handbags, toys, filter, health care, gifts, electrical supplies, audio equipment, engineering construction and other industries. Forming characteristics of products, we not only met domestic demand but also exported to Japan, Australia, Southeast Asia, Europe and other places as well as enjoying a high reputation from clients worldwide.
High product quality is the basis of our enterprise. With a systematic and controllable management system, we have gained the ISO9001:2008 quality management system certification. All of our products are environmentally friendly and up to the REACH, cleanness and PAH, AZO, adjacent benzene 16P, formaldehyde, GB/T8289, EN-71, the F-963 and British standard BS5852 flame retardant fire prevention testing standards. In addition, our products also conform to the RoHS and OEKO-100 standards.
If you're looking for a quality, dependable source for nonwoven fabric, contact us. We are able to supply you with a nonwoven fabric sample within 30 days, or sooner. Our capabilities allow us to schedule a trial within 4 to 6 weeks.
non woven fabric Manufacturing processes video 
---
Post time: Nov-15-2018